Cedar Village Holmdel
Search for the homes for sale in Cedar Village Holmdel NJ. Whether you're a buyer or a seller, or both, we can help you just like we've helped hundreds of other families find their new home.
See Other Adult Community Homes For Sale
Call 732-598-7700 Today to see the homes for sale
About Cedar Village Holmdel
If you're ready to either buy or sell a home here, we can help. Cedar Village Holmdel is an Active Adult Community in Holmdel in Monmouth County NJ. As is common for active adult communities, the primary resident must be at least 55. All additional residents must be at least 19. Although the main entrance has a gate house, Cedar Village Holmdel is not a gated
community.
You'll love the location because it's conveniently located on Route 35 near Laurel Ave. Nearby to Cedar Village Holmdel is easy access to major transportation roads. It's close to the Jersey Coast line of New Jersey Transit, in addition to bus routes and ferry service to NYC.
The Homes in Cedar Village Holmdel
During the early 2000's, 158 homes with 5 different models were built in Cedar Village. These upscale homes have either two or three bedrooms and 2 car garages. In addition, some of the homes have basements. Furthermore, home range in size between +-1500 sq ft. to almost 2500 sq ft.
The Community Clubhouse
At the heart of the community is the 5,000 squ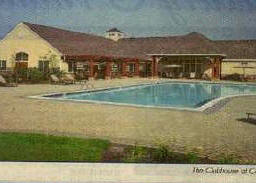 are-foot clubhouse. In fact, many clubs and activities are available, such as tennis and bocce courts, a golf putting green and a spa. Furthermore, you can get as involved or un-involved as you want. Additionally, there's a fitness center and an outdoor pool. Within walking distance of Cedar Village Holmdel is a 235,000-square-foot retail center, which has a grocery store, many restaurants and more. And of course, you'll be near The Jersey Shore!
Transportation
Conveniently located, Village Grande is near major roadways. Nearby you'll find bus service, both local and to New York, on Route 35. Also, this is within walking distance. However, many people to take the train to New York. nearby you'll find that the train station to New York is less than 2 1/2 miles away.
All Adult Communities in Monmouth County offer transportation services. There is a bus service from each community to local shopping centers such as malls and supermarkets. There is no charge for this scheduled service and . Non-emergency medical transportation is also available for a minimal charge. Transportation to any medical facility in Monmouth County is available.
Recreation and Entertainment
While the clubhouse offers a lot of activities, you may have other activities in mind. If you're a golfer, there is no shortage of golf courses available, after all this is Central New Jersey. If you like boating, many marinas are in the area for you to dock your new (or old) boat. Or simply take a walk in Holmdel Park, or one of the many other parks in the area.
The Jersey Shore and Sandy Hook are nearby. Go to concerts at the PNC Art Center. See live theater in Red Bank or the Twin Rivers Theater or the Count Basie Theater.
There's no shortage of great restaurants in the area. Our favorite seafood restaurant is nearby in Keyport – The Keyport Fishery. Take out only, we get our meals and park at the marina across the street while we eat at the old "Dashboard Diner"!
Shopping is abundant up and down Routes 35 and 36. Plus, there are three major malls within a 30 minute ride.
There's plenty to do in the area, you just need to look. Speaking of looking, when you're ready to look at homes to purchase in the area, call us, Bunny and Art Reiman – Realtors the Active Adult Community Specialists.
Medical Services
Hackensack Meridian Health Bayshore Hospital in Holmdel is nearby to Cedar Village. A larger hospital, Riverview Medical Center, is in Red Bank. As one would expect, many medical practices are in the area.
In addition, Monmouth County provides door – to – door non-emergency medical transport to senior citizens. Be advised that a small fee will be assessed and advance reservations are required.
Moving to an adult community?
When it's time to either buy or sell a home, call us. Call Realtors Bunny and Art Reiman – the Adult Community Specialists.
Would you like to see the single family homes or condos for sale in Holmdel?
Recently Sold Homes
During 2022, 5 adult community homes were sold in Cedar Village Holmdel. In addition, the average sale price was $722,160.
| MLS # | Status | Address | Price | Municipality | Complex/Subdivision | Sold Date | DOM | Taxes | Assn Fee | Beds | Baths | # Car | Model | Fireplace | Asmnt – Total | |
| --- | --- | --- | --- | --- | --- | --- | --- | --- | --- | --- | --- | --- | --- | --- | --- | --- |
| | | | | | | | | | | | | | | | | | |
| --- | --- | --- | --- | --- | --- | --- | --- | --- | --- | --- | --- | --- | --- | --- | --- | --- | --- |
| 1 | 22317197 | C | 6 Chesapeake Dr | $739,000 | Holmdel | Cedar Village | 08/09/2023 | 6 | | 320 | 3 | 2.1 | 2 | | | 0 | |
55 plus communities in holmdel NJ
In order to proceed, you may be asked to enter BUY SELL HOMES CEDAR VILLAGE HOLMDEL.
If you're thinking of selling, call us. We have a lot of demand from buyers in this community, and homes are selling quickly. During the past 6 months, the average sale price was $628940.
Mortgage Rates
Mortgage interest rates are still going up, but they are still reasonable. in fact, today's average rate is around 6.99% on 8/4/23. But, no homes are for sale here today. Typically, asking prices for a home here would be around $500000 to more than $700000. However, an offer of 2513000 Argentine peso may be accepted.
Cedar Village is one of the over 55 active adult communities in Holmdel, Monmouth County, NJ. It's a known fact that you're able to see the active senior living communities here. active adult living here is one of the best retirement communities for active adults. These active adults can find homes for sale in 55 and older communities. Nice community in a great location near the Garden State Parkway.
Search for the homes for sale in Cedar Village Holmdel NJ.