Four Seasons Manalapan
Four Seasons Manalapan – Find the active adult homes for sale. If you're ready to either buy or sell a home here, call Bunny and Art Reiman – the Active Adult Community Specialists. We can help.
Call 732-598-7700 Today to see the homes for sale
Four Seasons Manalapan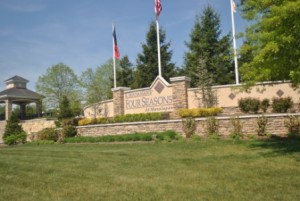 Four Seasons  Manalapan is an Active Adult, Over 55 community. Located near the prestigious Battleground Country Club, this active adult community boasts the privacy and security of a gated entry. You'll find beautifully landscaped grounds , with many ponds and walking paths.
There are two sections in this community. The two sections are connected by a beautiful walking path through the woods which crosses over a creek. At the main section is a guardhouse on the Route 33 entrance which is manned 24/7. And, from this location, the guards can allow access to the other three gates.
Four Seasons has a home owner's association. As a result, a monthly fee is paid by each owner. The homeowners association takes care of cutting the grass and snow removal, consequently you don't have to! In addition, the HOA provides use the clubhouse and the accompanying facilities.
The Homes
Construction began at Four Seasons Manalapan in 2006, and 692 single family detached, active adult homes were built by K Hovnanian. Furthermore, these homes were built to Energy Star specifications.
Since the last house was built in 2014, new construction is no longer available. The homes for sale in Four Seasons Manalapan are either two, three or four bedroom homes, and a two car garage is standard. There are 7 different luxurious models offering open floor plans with between 1900 sq ft to 3250 sq ft of living space. While some homes have a basement and others have a loft, there are even some that have both! Also, a walk up semi finished attic for storage was a popular option. Furthermore, these homes were built to Energy Star specifications.
The Clubhouse
You'll find World-class amenities at the clubhouse in Four Seasons Manalapan. And quickly you'll discover that this is the social center of the community. The weather won't dictate to you when you can swim, because you can swim in either the indoor or outdoor pools. Additionally you'll find a sauna and whirlpool. Also, there are tennis courts, a state of the art fitness center,  recreation & fitness areas, putting greens & more. In addition, pickle ball is very popular. Actually, this is the place to be for relaxation and socializing. Share exciting sports and leisure activities with your friends and guests throughout the year. The multi-purpose room is the setting for parties, dances and other entertainment. If you can't stay active and involved here, you're just not trying!
Transportation
All Adult Communities in Monmouth County offer transportation services. Bus service from each community to local shopping centers such as malls and supermarkets is supplied by Monmouth County. In addition, this is a scheduled service and there is no charge.
Residents of Four Seasons Manalapan like the location because it's close to the NJ Turnpike (Exit 8) or Route 9 for access to the Garden State Parkway. And, if you either work or play in New York, a Park N Ride for NYC for the bus is a short ride away. Or some people prefer a short ride to the train station in Princeton or Matawan.
Shopping and Entertainment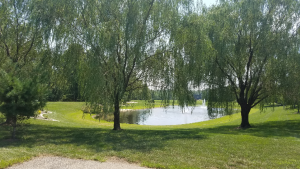 On Route 9, you'll find shopping centers lining Route 9 both north and south. The popular warehouse clubs are also close. And nearby, Raceway Mall has over 200 stores. Most major restaurant chains have a presence in the area, in addition to many fine independent restaurants. Downtown Freehold has many fine restaurants, in addition to live entertainment on many nights. During the summer, Raceway Mall hosts free concerts which feature some of the best local bands.
Recreation
Golfers love the area because the Monmouth County Park System operates eight public golf courses. In addition, there are many private golf courses and country clubs to choose from. You'll also find that there are many public parks in the area which offer recreation areas, playgrounds for the grand kiddies, hiking and bicycling trails and much more. And, the beaches at the Jersey Shore are a short ride away. Also, there are many marinas a short drive away.
Live theater is available in Red Bank, at both the Two River Theater and the Count Basie Theater. Listen to big name bands at concerts in the PNC Art Center in Holmdel. Or go to the live, free concerts that many towns sponsor. If you can't keep busy here, you just aren't trying! After all – Life Begins at 55!
Medical Services
Just minutes away is Centra State Medical Center in Freehold. You'll find many medical practices near the hospital and in the area. Monmouth County also provides senior citizens with non-emergency transport to any medical facility or doctor's office in Monmouth County. A nominal fee will be charged for these trips which must be scheduled a few days in advance.
Moving to an adult community?
When it's time to either buy or sell a home, call us. Call Realtors Bunny and Art Reiman – the Adult Community Specialists.
The Real Estate Market
During 2022, 38 adult community homes were sold in Four Seasons Manalapan. In addition, the average sale price was $747,653.
Would you like to see the single family homes and condos for sale in Manalapan?
Recently closed in Four Seasons
During the past 6 months, 13 homes were sold with a median sale price of $739000.