Let Bunny & Art help through our affiliation with the
Leading Real Estate Companies of the World®
The real estate business is largely local in nature.  Consequently, this explains why independent, locally branded real  estate firms continue to dominate many markets. The entity that connects all of these top brands is Leading Real Estate Companies of the World®. The affiliate companies (Nearly 700 firms with 5,000 offices and 145,000 sales associates) sell over $400 billion annually. In fact, this is more than any national franchise brand. The  franchise names are familiar to many consumers. However, the names of most LeadingRE local brands, such as Woodward Realty Group, are also household names at the local level. And when considered as a network, they represent over a third of the top 500 companies in the country. They are also the Number One companies in terms of market share in more of the top 80 markets than any national brand.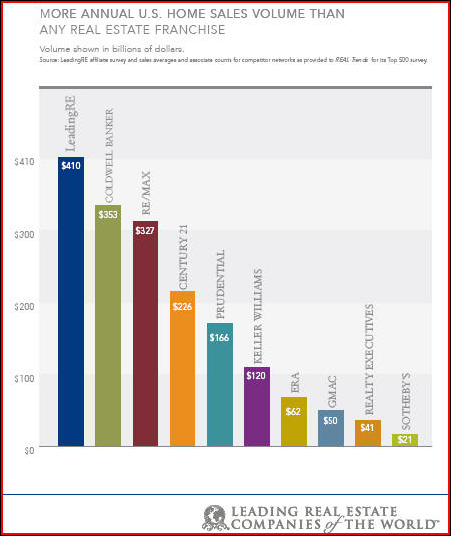 Leading Real Estate Companies of the World® recruits only the best of the best among locally and regionally-branded firms. This is because each firm's local brand and performance reflect upon other affiliates nationally and globally. Membership is a privilege which can be terminated by either party at any time. And this is unlike national franchises with 10 to 30-year contracts. This means that the Leading RE network must provide a strong value proposition year in and year out. Also, it means that its members must maintain high performance standards in order to retain membership.
Woodward Realty Group,
Woodward Realty Group is a member of Leading Real Estate Companies of the World®, . By combining with Bunny and Art Reiman they can offer you the ability to access local Multiple Listing Services throughout the country. You can also access demographics,  school information and climate and weather. Additionally, crime rates and other local information for almost every area of the country.  Plus international areas as well. Use these tools to learn about an area before deciding where to live. And when you've narrowed down your choice of areas, contact us. Let Bunny & Art introduce you to our team member in that area.
To visit RELO® Home Search, click the logo:
And don't forget to call us so that we can introduce you to our local team member.
Thank you
Bunny & Art