Greenbriar Marlboro
View the Greenbriar Marlboro homes for sale in this active adult community. Then, when you're ready, call Realtors – Bunny and Art Reiman – the Adult Community Specialists.
See Other Adult Community Homes For Sale
Call 732-598-7700 Today to see the homes for sale
About Greenbriar Marlboro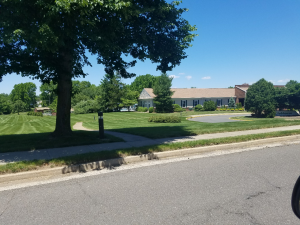 Greenbriar Marlboro is a 55+, Active Adult Community located in Marlboro, Monmouth County, NJ. Since this community has a homeowner's association, the residents are assessed a monthly HOA fee. However, the monthly maintenance fee provides for lawn maintenance and snow removal, consequently, you don't have to do it. Furthermore, like many adult communities, a one time buy in fee must be paid by the buyer at closing.
The Homes in Greenbriar Marlboro
Construction began in1981, and 766 homes were built in Greenbriar North while homes sizes in this non-gated community range between about 1500 sq ft to about 2800 sq ft. All homes are single family detached homes with either 2, 3, or 4 bedrooms and a 1 or 2 car garage. Furthermore, many have either a loft or a den and some even have a basement. In addition, you'll be glad to know that your pets are welcome.
The Greenbriar Marlboro Clubhouse
As a resident of Greenbriar Marlboro you are entitled to use of the numerous amenities at the clubhouse. Actually, this is the place where you'll go to socialize with your neighbors and to meet new friends. Also, there's shuffleboard, a fitness center, a billiard room, an outdoor pool, tennis and handball, a bocci court and other activities. Additionally, the ballroom is available for parties, dances and other get togethers.
Although there isn't a golf course in Greenbriar, many private and public courses are in Monmouth County. In fact, Monmouth County operates eight public golf courses for county residents.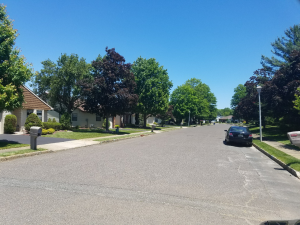 Transportation
All Adult Communities in Monmouth County offer transportation services from each community to local shopping centers, for which there is no charge for this scheduled service.
Residents of Greenbriar Marlboro like it here because it's situated between Route 9 and Route 79, as well as other major roadways. As a result, it's conveniently located near shopping, dining and major transportation routes. For those who still work in New York, commuter bus service is available at one of the Park and Rides on Route 9. Additionally, The New Jersey Transit station nearby in Matawan provides rail service to New York.
Call today to see the active adult community homes for sale in Greenbriar, Marlboro NJ
Recreation, Entertainment and Shopping
In addition to golf, there are many other recreational activities in Monmouth County. The Henry Hudson trails runs through Marlboro, and it offers a hiking and bicycle trail. Another hiking / bicycle trail is at the Manasquan Reservoir in Howell. In addition, there are many county and township parks that residents are welcome to use. Furthermore, Sandy Hook and the Jersey Shore beaches are 30 minutes away.
If you like live music, you have many options to select from including downtown Freehold, where free concerts are provided featuring top local bands. Simply take your lawn chair to the Hall of Records, relax and enjoy the music. Similar situations exist in other Monmouth County towns. For a change, see one of the top name groups perform at the PNC Art Center in Holmdel. Or go to either Pier Village in Long Branch or Asbury Park. For live theater, there are many small theater groups in the area. Count Basie Theater in Red Bank produces musicals, concerts and other productions year round. Or go to Matawan to take the train to New York and see a Broadway show.
Route 9 is full of shopping centers and restaurants. But one of our favorite restaurants is the Keyport Fishery which offers take out seafood only, but it's fresh and it's great. We cross the street and look out over the marina and the bay while eating at "The Dashboard Diner"!
Medical Service
Nearby is Centra State Hospital in Freehold, which is 10 -15 minutes away. In addition, Monmouth County also provides non-emergency medical transportation to any medical facility or doctor's office in the county. However, advance reservations are required and a small fee charged for this service.
Moving to an adult community?
When it's time to either buy or sell a home, let us help you. Call Realtors Bunny and Art Reiman – the Adult Community Specialists.
Riviera at Freehold
Rosemont Estates – Marlboro NJ
The Real Estate Market
During 2022, 44 adult community homes were sold in Greenbriar. In addition, the average sale price was $500,587.
Recently Sold Homes in Greenbriar Marlboro
| MLS # | Status | Address | Price | Complex/Subdivision | Sold Date | Days On Market | Taxes | Assn Fee | Bedrooms | Total Baths | Garage | Apx Year Built | |
| --- | --- | --- | --- | --- | --- | --- | --- | --- | --- | --- | --- | --- | --- |
1
22236528
C
79 Murray Hill Ter
$450,000
Greenbriar
02/28/2023
16
7,034
215
2
2
Y
1988
2
22232624
C
24 Coventry Ter
$405,000
Greenbriar
02/14/2023
78
6,126
215
2
2
Y
1985
3
22237004
C
4 Benchley Dr
$422,000
Greenbriar
02/23/2023
28
6,582
220
2
2
Y
1988
4
22223837
C
120 Murray Hill Ter
$490,000
Greenbriar
02/28/2023
101
7,599
215
4
3
Y
1987
5
22301529
C
69 Peasley Dr
$525,000
Greenbriar
02/28/2023
13
6,982
220
2
2
Y
1986
6
22304027
P
58 Suffolk Way
$400,000
Greenbriar
9
5,358
220
2
2
Y
1981
7
22300892
P
11 Benchley Dr
$499,000
Greenbriar
15
7,233
220
2
2
Y
1990
8
22237428
P
10 Clubhouse Ln
$589,900
Greenbriar
51
7,844
220
4
3
Y
9
22300004
P
64 Suffolk Way
$400,000
Greenbriar
22
5,696
220
2
2
Y
More about homes for sale in Greenbriar Marlboro.
On 3/21/23 there is 1 home for sale with and asking prices of $549900. Also, typical asking prices start in the mid $400000s.
Many people ask if this is the best retirement communities for active adults. And for many people, it is. This nicely kept Monmouth County NJ 55 and older communities has a lot to offer in the way of active adult living. FInd the 55places luxury homes in active adult communities near me. These 55 and over communities allow you to enjoy your retirement years in a retirement community with people like yourself.
Mortgage Rates
Although rates have gone up, the rates are still reasonable. Meanwhile the average 30 year conventional mortgage carries a rate of about 6.51% which is a slight increase from the previous week.
Also, in order to continue you may need to enter HOMES FOR SALE GREENBRIAR MARLBORO.
You'll find 2 bedroom homes for sale in Greenbriar, 3 bedrooms homes in Greenbriar and even a few 4 bedroom homes in Greenbriar. WHile sOme homes have a loft, others have a basement.