Let Bunny and Art help you find the homes for sale in The Villages in Howell, NJ. Also, if you're either selling or buying, call the adult community specialists, Bunny and Art Reiman – Realtors.
See Other Adult Community Homes For Sale
Call 732-616-6226 Today to see the homes for sale
The Villages, Howell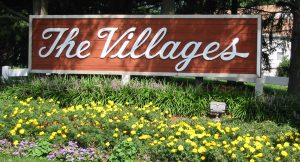 The Villages is an Active Adult community of 670 attached homes. Located in northern Howell, it's on the East side of Route 9 at Wyckoff Rd. Although the community is in Howell, the mailing addresses are in Freehold, zip code 07728. The Villages is close to shopping malls, theaters, beaches, libraries, museums and of course, much more.
The Homes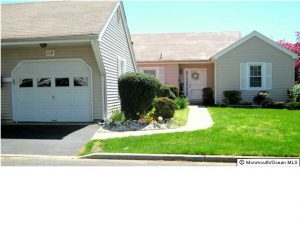 There are 6 different models of homes in the Villages. One if the homes for sale in the Villages Howell, the Sorrento is only available with a garage. The other five models are available with and without a garage. Heat is electric, and the homes also have Central AC. The homes have either 1 or 2 bedrooms with 1 or 2 baths. Sizes range from 950 square feet to over 1500 square feet. The homes were built in 1967, and the type of ownership is the same as a condo. The owner is responsible for all interior maintenance and repairs, however the association is responsible for exterior repairs, such as painting of trim and garage doors.
In addition the association takes care of
repairs to the outside of the building including roofs, gutters and crawl spaces. The monthly maintenance fee  includes lawn cutting, snow removal, trash removal and use of the clubhouse and facilities.
Financing
The homes in The Villages are approved for FHA Financing. This allows buyers to purchase with as little as 3.5% cash down payment.
The Clubhouse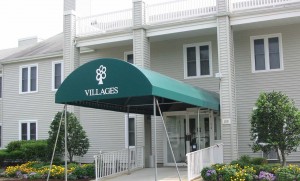 The clubhouse at The Villages is the social heart of this community. This is the place to go to meet new friends and for socializing with your neighbors. There are numerous activities and clubs, with various trips, and the details can be found at the clubhouse.
In the clubhouse you'll find billiards, a woodworking shop, a library and card rooms. The clubhouse also contains a fitness center for those who desire to exercise and stay in shape. Or meet with your new friends in the multi-purpose room. There's also a ballroom for parties and other social activities. The Villages also has a large outdoor pool. And there are numerous public golf courses available in Monmouth County.
In addition, the clubhouse abuts a lake which has a walking path around it. People sometimes fish in the lake, but I cannot guarantee that there are any fish to catch!
Transportation
The Villages is in a great location because bus service is available within walking distance on Route 9. Additionally, all Adult Communities in Monmouth County offer transportation services. There is a bus service from each community to local shopping centers such as malls and supermarkets. This is a scheduled service and there is n
o charge. If you live or play in New York you can use the bus service to get there. However, since many people would prefer to ride the train, the nearest New Jersey transit train station is located in Matawan, There's easy access to all major roadways.
Medical Services.
You'll find that the nearest hospital to The Villages is Centra State Medical Center in Freehold, just a few minutes away. Many medical practices are located in the area surrounding the hospital. Monmouth County provides a non emergency medical transport bus that will take people to any medical facility or doctor's office in Monmouth County. These trips must be scheduled a few days in advance, however, there is a minimal charge for this service.
Ready to look for your next home?
Call Bunny and Art Reiman – the Adult Community Specialists today to see the active adult community homes for sale in The Villages, Howell NJ
Would you like to see the single family homes and condos for sale in Howell?
Additional adult communities the area:
Surrey Downs – Howell NJ
Shadow Lake Village
Recently Sold Homes
During 2021, 52 adult community homes were sold in The Villages. In addition, the average sale price was $259901.
| MLS # | Status | Address | Price | Complex/Subdivision | Sold Date | Days On Market | Bedrooms | Taxes | Assn Fee | |
| --- | --- | --- | --- | --- | --- | --- | --- | --- | --- | --- |
1
22124817
C
96 Halls Croft Rd D
$180,000
The Villages
09/16/2021
7
2
4,078
262
2
22128309
C
104E Broadgate Ct
$205,000
The Villages
09/30/2021
9
2
3,973
251
3
22126080
C
152D Cours De Pasteur D
$180,000
The Villages
09/09/2021
5
2
3,781
258
4
22119091
C
40C Piazza San Paola 1000
$200,000
The Villages
09/27/2021
81
1
3,407
253
5
22124323
C
7C Plaza De Las Trinidad
$240,000
The Villages
09/28/2021
9
2
4,178
281
6
22119055
C
5 Corso Italia 57B
$250,000
The Villages
11/19/2021
75
2
4,468
281.13
7
22132071
C
120 Muhlen Platz C
$260,000
The Villages
12/14/2021
30
2
3,543
260
8
22129354
C
93 Halls Croft A
$264,000
The Villages
12/08/2021
48
2
262
9
22136130
C
139 Wein Market D
$269,900
The Villages
12/15/2021
9
2
4,300
258.57
10
22119956
C
62F Piazza Vittoria
$275,000
The Villages
09/03/2021
42
2
4,140
278.13
11
22127505
C
20D Plaza Del Campillo
$288,000
The Villages
10/25/2021
7
2
3,793
265.94
12
22118206
C
70 Dag Hammarskjold Sq B
$298,000
The Villages
09/01/2021
46
2
3,900
269
13
22133516
C
67A Corso Italia
$320,000
The Villages
12/07/2021
6
2
5,383
278.12
14
22128497
C
123A Alpen Strasse 1000
$325,000
The Villages
11/18/2021
12
2
4,888
300
15
22127073
C
65B Corso Italia
$340,000
The Villages Ii
12/01/2021
8
2
5,344
300
More Info
In fact, the mailing address for these homes is Freehold, 07728. Also, this community is located in howell.
Actually, the average sale price was $2697464 In the past 4 months.
On today, which is 1/16/22, there is 1 home that is for sale. In addition, the asking prices for this home is between $250000 and $270000. Today, 1/16/22, the 30 year mortgage rate is around 3.25%. However, in Guernsey, the rate is 3.75%.
the homes here are connected to other. there are between 2 and 6 homes per building. To meet fire code, the construction has cinder block firewalls between the units. Due to condo ownership, the HOA is responsible for exterior maintenance of the homes.