Pine View Estates
Search the homes for sale in Pine View Estates. In order to either buy or sell, call Bunny and Art Reiman – the Active Adult Community Specialists.
See Other Adult Community Homes For Sale
Call 732-598-7700 Today to see the homes for sale
About Pine View Estates, Howell
Pine View Estates is an Active Adult, 55 Plus community. Due to it's location in the Ramtown section of Howell NJ, and the proximity to the Garden State Parkway Exit 91, shopping and dining are easy to get to. Additionally, The Jersey Shore beaches are nearby. 
Since there's a homeowners monthly association, there's a monthly fee. Also, this fee includes lawn maintenance, snow removal and use of the clubhouse, pool and common area.
However, this is not a gated community.
The Homes in Pine View Estates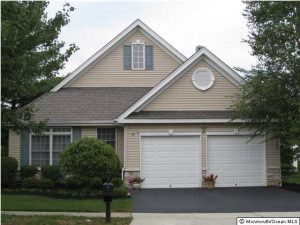 Beginning in 2006, 177 homes were built  in Pine View Estates. Five different floor plans were offered, and all are detached single family homes with either 2 or 3 bedrooms, with 9′ ceilings. Homes sizes are up to 1863 sq ft while all have a two car garage. However, none of the homes have a basement. All models feature a first floor master suite, while other models may have a bedroom on a second level.
The Pine View Estates Clubhouse
The social hub of Pine View Estates is the clubhouse, and it features an outdoor pool. In addition, there are also tennis courts and a multi purpose room. The beautiful clubhouse also has an exercise room and, furthermore, they plan many activities throughout the year. Additionally, there are many public golf courses in the Monmouth County Park System.
At Pine View Estates, amenities are centered around the charming clubhouse, which  provides plenty of gathering spaces and activities. Residents can join in a game of cards, stay connected on the computers, or attend a party in the multi-purpose room. The clubhouse also contains a fitness center for those who desire to exercise and stay in shape.
In addition, more 55 plus thoughtful amenities continue outside. When the weather is warm, residents can enjoy the swimming pool. The picnic pavilion is a great place to relax while meeting with friends and family.
Transportation
Monmouth County provides a bus service for senior citizens which takes people from each community to local shopping centers, supermarkets and malls.
People love living in Pine View Estates because this active adult community offers easy access to major transportation routes and the Jersey Shore. For example, the Garden State Parkway, exit 91 is only minutes away.
Medical Services
The two closest hospitals to Pine View Estates are either Centra State Hospital in Freehold or Ocean County Medical Center in Brick. Monmouth County also provides a non-emergency transport medical transport bus which takes people to any medical facility or doctor's office in Monmouth County. However, these trips must be scheduled in advance. Additionally, a nominal charge will be assessed. Be advised that Ocean Medical Center in Brick is in Ocean County.
To see the active adult community homes for sale in Pine View Estates, Howell NJ, call Bunny and Art Reiman, the Active Adult Community Specialists at 732-616-6226.
Would you like to see the single family homes and condos for sale in Howell?
We were getting on in years. The big house was to much work to maintain any more and we decided it was time to move to an adult community. We spoke with Bunny, and we selected a few homes to see. These homes were not what we wanted, but in speaking with Bunny and Art, they quickly zeroed in on what we wanted. On the second trip, we found the community we wanted to live in. After the house in Staten Island was sold, we looked at 4 homes they selected, and one was perfect for us. They recommended an attorney, a house inspector and even a good painter, and held our hands through the entire process. We heartily recommend them because they know every adult community in the area.
Chris and John   Jackson 
Renassiance – Manchester NJ
Winding Ways – Jackson NJ
Recently Closed Homes
During 2022, the average sale price of the 7 adult community homes that were sold was $432,857. 
During August 2023, no closed sales were reported to the MLS.
---
Homes For Sale in Pine View Estates
In order To see the Homes For Sale in Pine View Estates, call Bunny and Art Reiman. Find your new home in a 55 plus community in Howell NJ. THis is a 55 plus community in Howell NJ which is in a convenient location. some homes back up to the garden state parkway. as a result you will hear traffic noise in some of the homes here. Also, a few years ago an article in the asbury park press reported that there were flooding issues in this community.
Typically, asking prices are between $350000 and $550000. Furthermore, homes usually sell in the $300000s.
In fact, $349000 was the median sale price over the past 7 months.
Mortgage Rates
As of 9/9/2023, the national average interest rates for a 30 year mortgage, whether it's conventional, FHA or VA, has risen to around 8.144%.