Four Seasons at Monmouth Woods – new construction and resale active adult community homes for sale.
See Other Adult Community Homes For Sale
Call 732-598-7700 Today to see the homes for sale
Life Begins at 55!
Four Seasons at Monmouth Woods
There's nothing like a new home. The intoxicating scent of new carpets and fresh paint. Everything is new. Now you can begin the fun of decorating and making it your home.
New construction started in 2016 at Four Seasons at Monmouth Woods in Howell. When complete there will be 251 homes built. Four Seasons at Monmouth Woods is located in Howell, west of Route 9. Shopping is close, with both shopping centers, major malls and supermarkets nearby. The Jackson Premium Outlets, Great Adventure and of course, the Jersey Shore are also in close proximity. Numerous parks and golf courses are also in the area.
Purchasing New Construction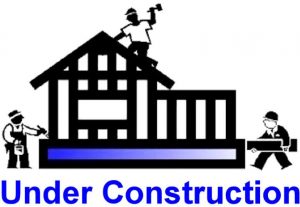 When looking to purchase a new construction home, it's in your best interest to have a Realtor accompany you who is experienced in new construction sales. Please be aware that the salesperson in the sales office works for the developer and not for you!  Bunny and Art have sold many new construction homes and, in fact, have ideas that can save you thousands of dollars. And it costs you nothing to bring them with you to represent you!  Call us, Bunny and Art Reiman – the Adult Community Specialists, and let us help you!
Active Adult Community New Construction
The Homes in Four Seasons
As I said, there's nothing like a new home. Everything is fresh and clean, and it's a clear slate in terms of decorating. You'll find some familiar models here, but you'll also find new models not available in the area. There are 12 different floor plans being offered in Four Seasons. Some of these luxurious homes are all on one floor, while others have a loft. The homes offer either two or three bedrooms and they all have a 2 car garage. Walk up attic storage is an available option on some models. Pricing starts in the upper $300,000s.
In addition, all homes feature GE appliances, granite counter tops, elegant baths and much more. You'll also find that the homes are energy efficient, with high efficiency natural gas furnaces, tankless hot water heaters and programmable thermostats. For even more energy savings, solar electric panels can be installed on the roof!
If you don't want to wait for new construction, there may also be resale homes available. And, quite often, quick delivery new construction homes are available.
The Clubhouse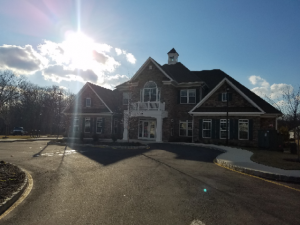 Homeowners at Four Seasons at Monmouth Woods will enjoy a variety of recreational and social opportunities. The heart of the community is the 6,900-square-foot clubhouse. You can meet your new neighbors and make new friends here. The clubhouse features  an outdoor pool and a kiddie pool for the grandchildren. Also, as with most active adult communities, a number of clubs and social activities will be offered. You'll also find a putting green, tennis courts, bocce ball courts and more.
While Four Seasons at Monmouth Woods does not have a golf course, there are eight public golf courses in Monmouth County. Other activities, such as fishing, boating and more are nearby.
Transportation
If you either work or play in New York, Four Seasons is a great location. And that's because Route 9 and commuter parking lots are nearby. However, some people prefer to take the train from the station in Matawan. In addition, major roads supply convenient access via Route 9, and Route 195.
Recreation, Shopping and Dining
If there aren't enough activities available for you at the clubhouse, there's still plenty to do in the area. The Monmouth County Park System has many parks with activities such as hiking, bicycling and much more. My personal favorite in the Manasquan Reservoir in Howell. Surrounding the reservoir is a 5 plus mile bicycle or hiking trail which offers beautiful views over the water. In addition there are eight public golf courses in the park system.
Freehold Raceway Mall is nearby with more than 200 stores. And Route 9 is lined with shopping centers and restaurants.
Moving to an adult community?
When it's time to either buy or sell a home, call us. Call Realtors Bunny and Art Reiman – the Adult Community Specialists.
Are you looking for other new construction adult communities?
Would you like to see the single family homes and condos for sale in Howell?
Check out the other active adult communities in Howell:
Equestra – Howell/Farmingdale
Surrey Downs – Howell NJ
The Villages – Howell NJ
Pine View Estates – Howell NJ
Recently Sold Homes
MLS #

 

 

Status

 

 

Address

 

 

Price

 

 

Complex/Subdivision

 

 

Bedrooms

 

 

Total Baths

 

 

Sold Price

 

 

Sold Date

 

 

Days On Market

 

 

Garage

 

 

 
 

 

 

 

 

 

 

 

 

 

 

 

 

 

 

1

C

 

 

16 Moonlight Way 194

$399,990

Four Seasons@Monmouth Woods
2
2
399,990
06/19/2020
39
Y
 

 

2

C

 

 

53 Harvest Ridge Rd 235

$458,423.08

Four Seasons@Monmouth Woods
2
2.1
458,423.08
06/19/2020
70
Y
 
More About For Seasons Monmouth Woods Howell
This 55 plus adult community of 55places offers new construction. Located in monmouth county nj, this is an active adult communities near me, and is one of the best retirement communities for active adults. This is a hovnanian four seasons nj 55 and over communities featuring luxury homes. It could be one of the best retirement communities for active adults in monmouth county nj. As one of the 55 and over communities in howell nj, it is a great location for active adult living. You will enjoy living in Four Seasons at Monmouth Woods, Howell NJ.
it's in a great area which is close to everything except a good seafood restaurant.
actually, today, 7/2/20, there are 3 resale home available. The asking prices are between $490000 and $570000.
during 2019, 13 homes were reported as sold thru the MLS. Others were sold by the developer and are not included in this report. Sale prices were between $399999 and $599999.
Mortgage Interest Rates
Interest rates remain near historic lows. The rate is actually the same for conventional, FHA and VA 30 year mortgages. As of today, 7/2/20,  mortgages can be found for as low as 3%.