Search the homes for sale in Village Grande in Holmdel – let Bunny and Art help you find your new home today!
Village Grande, Holmdel
See Other Adult Community Homes For Sale
Call 732-616-6226 Today to see the homes for sale
The Community
Village Grande in Holmdel is an upscale, Active Adu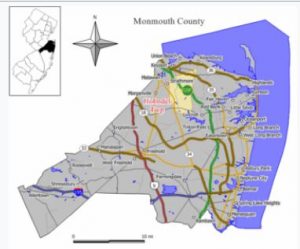 lt Community in Holmdel, Monmouth County, NJ. As is common in adult communities, the primary resident must be at least 55. All other residents must be at least 19.
Built in 1998 and 1999, it's located on Route 35, and is convenient to major transportation routes, shopping, dining and of course… the Jersey Shore. Village Grande also welcomes your pets.
The homeowners association is responsible for lawn maintenance, snow removal and common area maintenance. These services are included in the monthly association fees.
The Homes
There are 116 single family homes in Village Grande, The homes for sale in Village Grande Holmdel have either two or three bedrooms with a one or a two car garage. Some of these homes have a loft, while others have a basement. In fact, some homes have both. The homes in this non gated community range in size from 1400 square foot to almost 2400 square foot.
The Clubhouse
The clubhouse is the social center of the community. When the weather is warm, swim in the outdoor pool or enjoy playing bocce with your neighbors.. The clubhouse also contains a fitness center for those who desire to exercise and stay in shape. Or meet with your new friends in the multi-purpose room. While Village Grande doesn't have a golf course, there are many golf courses in Monmouth County. In addition, you can pursue other hobbies such as boating and fishing nearby.
Transportation
Commuters love Village Grande because train service is nearby at the Middletown or Hazlet train stations. Additionally, it's close to The Garden State Parkway.
All Adult Communities in Monmouth County offer a bus service from each community to local shopping centers such as malls and supermarkets, and there is no charge for this scheduled service. There is also a non-emergency medical transport bus that will take people to any medical facility or doctor's office in Monmouth County. These trips must be scheduled a few days in advance, however, there is a small fee for this service.
Call today to see the active adult community homes for sale in Village Grande, Holmdel NJ. Call Realtors Bunny and Art Reiman – the Adult Community Specialists
Would you like to see the single family homes or condos for sale in Holmdel?
We were getting on in years. We couldn't maintain the big house any more and decided it was time to move to an adult community. We spoke with Bunny, and we selected a few homes to see. These homes were not what we wanted, but in speaking with Bunny and Art, they quickly zeroed in on what we wanted. On the second trip, we found the community we wanted to live in. After the house in Staten Island was sold, we looked at 4 homes they selected, and one was perfect for us. They recommended an attorney, a house inspector and even a good painter, and held our hands through the entire process. We heartily recommend them. They know every adult community in the area.
Chris and John Jackson
Recently Sold Homes
| MLS # | Status | Address | Price | Complex/Subdivision | Bedrooms | Total Baths | List Price | Sold Price | Sold Date | Days On Market | Garage | County | Minimum Age | |
| --- | --- | --- | --- | --- | --- | --- | --- | --- | --- | --- | --- | --- | --- | --- |
1
22042388
C
43 Freesia Ct
$595,000
Village Grande
3
3
599,000
595,000
04/02/2021
26
Y
Monmouth
55
2
22101238
C
47 Freesia Ct
$589,900
Village Grande
2
2
589,900
589,900
03/19/2021
4
Y
Monmouth
55
In 2020, there were 5 homes sold in Village Grande. In addition, $689,355 was the average sale price.
Mortgage Interest Rates
interest rates are low, as a result, it's a great time to purchase a new home. as of 4/15/21, the rate for a 30 year mortgage is approx 3.125 %. this is holding steady from last week. also, as of 4/8/21, there aren't any homes for sale here. In fact, the homes, when they sell, typically go from the mid $400,000s to around $600,000 (around 942000 Cook Islands dollar) . SOme homes have a basement.
this is a great location on route 35 south. the bad news is the new jersey transit trains are very near many of the homes. and by very near, i mean some homes it's less than 250 feet. however, if you're moving from new york, you won't be able to sleep without similar noise. By the way, the lucky number for today is 2166.