Nobility Crest
Search for the Homes For Sale in the active adult community, Nobility Crest. In order to either buy or sell, call Bunny and Art Reiman – the Active Adult Community Specialists. 
Call 732-598-7700 Today to see the homes for sale
About Nobility Crest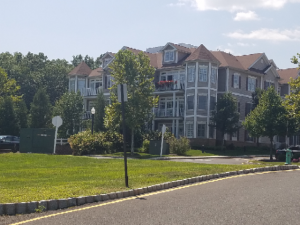 Nobility Crest is an exclusive, 55+ community for people who want luxury and, value in addition to a great location since it's located on Route 66 in the Wayside section of Ocean Township, Monmouth County, NJ. Furthermore New York City and Atlantic City are about a 1 hour drive. In addition, the Jersey Shore beaches are minutes away. Because of the easy access to the Garden State Parkway, Route 35, Route 66, Route 33 and Route 195, make community is an excellent choice for frequent travelers.
In any event, Nobility Crest is near to shopping malls, theaters, libraries, museums, and much more.
This is a gated community.
From it's location high on a hill, many homes offer panoramic views looking east towards Asbury Park and the Atlantic Ocean.
Originally, four buildings were planned, however, only three were built. In addition, recent new construction added three more buildings however all new construction homes have been sold. As a result, any available homes would be resales.
The Homes in Nobility Crest
Between 2007 and 2012, 198 upscale single level homes were built which are located in three mid-rise buildings. Each building includes hotel-like common areas, elevators between floors and secure, underground parking. Homes feature 2 bedrooms, gourmet kitchens, cozy dens, large living and dining areas, in addition to large expansive balconies. Some third floor penthouse homes also offer a loft. Items that are upgrades in most communities are standard such as granite counter tops in kitchens and baths and hardwood flooring. Furthermore, these homes sell from the low $300,000s to more than $500,000.
Homes in the Phase IV
During 2020 and 2022, three more buildings were constructed and new construction is sold out. New floor plans were added which offer between 1,017 square feet to 1,828 square feet of living space. These homes can have either one or two bedrooms. Some plans offer a master suite with en-suite baths which include shower seats. Also, all homes offer dedicated laundry rooms. In addition, all homes have either one or two balconies, while some offer a study.
New construction is no longer available, any available homes will be resales.
The Nobility Crest Clubhouse
Since you're a resident, you're able to use the common area facilities, which include a 4,300 square foot clubhouse which has a fitness center, business center, lounge, billiard and card rooms. And the heated outdoor pool has a walk in ramp, thus providing easy entry. In addition, each building's lobby also serves as common recreation space. One building houses the library, another the movie theater. Included with  the new phase will be an additional community room, a fitness room and an all-purpose room.
Recreation, Shopping and Dining
Golfers will appreciate that nearby are the public golf courses which are operated by the Monmouth County Park System. These courses are reserved for residents of Monmouth County and their guests. Also you'll find many private golf courses if you wish to join.
If you enjoy boating, there are many marinas are in the area. And of course, the Jersey Shore beaches are just a few miles away.
A major mall is just up the road in Eatontown. And there are two other major malls within a short ride in Freehold and Toms River. Routes 35 and 33 provide plenty more shopping venues, as well as downtown shopping in many of the shore towns. You'll also find no shortage of fine restaurants in the area.
Transportation
All Adult Communities in Monmouth County offer transportation services. There is a bus service from each community to local shopping centers such as malls and supermarkets. This scheduled service has no charge. If you wish to visit New York City, the easiest way to get there is via the train. The nearest train station is located in Asbury Park. Easy access to all major roadways is available, with Route 18, Route 35, Route 33 nearby, it;s easy to get anywhere. And the Garden State Parkway (Exit 199) is just a few miles away.
Medical Services
Monmouth Medical Center in Neptune, is the nearest hospital to Nobility Crest. Another option is River View Medical Center, which is in Red Bank. As is normal, there are many medical practices located close to these hospitals. There is also a medical transport bus that provides senior citizens with non-emergency transport to any medical facility or doctor's office in Monmouth County. These trips must be scheduled a few days in advance and there is a minimal charge for this service.
Ready to find your next home?
Call Bunny and Art Reiman – Realtors –today to see the active adult community homes for sale in Nobility Crest, Ocean Township NJ.
Chelsea Square Marlboro NJ
Xanadu – Wall NJ
Recently Sold Homes in Nobility Crest
During 2022, 21 adult community homes were sold in Nobility Crest. In addition, the average reported sale price was $474,587. However, not all new construction sales were reported. 
| MLS # | Status | Address | Price | Municipality | Complex/Subdivision | Sold Date | DOM | Taxes | Assn Fee | Beds | Baths | # Car | Model | Fireplace | Asmnt – Total | |
| --- | --- | --- | --- | --- | --- | --- | --- | --- | --- | --- | --- | --- | --- | --- | --- | --- |
| | | | | | | | | | | | | | | | | | |
| --- | --- | --- | --- | --- | --- | --- | --- | --- | --- | --- | --- | --- | --- | --- | --- | --- | --- |
| 1 | 22308571 | C | 7 Centre St 1311 | $590,000 | Ocean | Nobility Crest@Oce | 08/22/2023 | 98 | 8,307 | 520 | 2 | 2 | 1 | Penthouse G w/loft | N | 0 | |
Homes For Sale in Nobility Crest
Although rising, interest rates remain reasonable and presently are about 6.99% or less as of 8/4/23. As a result, now is a great time to purchase a new home. After all, how can you not buy a home at these rates? Additionally, you'll find that no homes are available.Typically, homes sell from the upper 300000s to $500000. However, 2123000 Philippine peso would be great also. the new homes have different construction than the old ones. the first buildings had concrete floors between all levels. the new buildings use wood trusses and plywood floors. Search for the Homes For Sale in Nobility Crest. Nobility Crest, which is in Ocean Township, is an active adult community. Call to see the Homes For Sale in Nobility Crest