Search the homes for sale in Shady Oaks, an active adult community in Middletown NJ. When buying or selling, call the adult community specialists, Bunny and Art Reiman.
Shady Oaks – Middletown
See Other Adult Community Homes For Sale
Call 732-598-7700 Today to see the homes for sale
The Community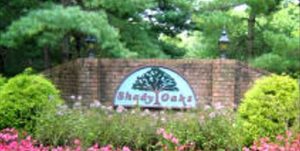 Shady Oaks in Middletown, NJ, is an Active Adult community which is located in a heavily wooded area off of West Front Street. Although it's located in Middletown, it has a Red Bank mailing address. You'll find it's a wonderful place to live, because it has easy access to shopping, fine dining and recreational facilities make. Also, shopping malls, theaters, beaches, libraries, museums, and much more are nearby. Additionally, Sandy Hook and the Jersey Shore are nearby, Numerous public and private golf courses are nearby in Monmouth County. Additionally, your pets are welcome here.
Homes in Shady Oaks have condo style ownership, and the monthly association fee includes lawn maintenance, snow removal and exterior maintenance of the buildings. Additionally, you'll have use of the common areas and clubhouse. In addition, like many 55+ communities, the HOA requires all new owners to pay a one time fee.
The Homes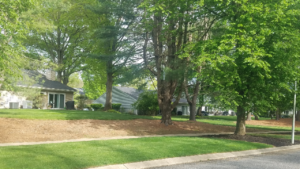 During the early 1980s, about 370 homes were built in Shady Oaks with either 1 or 2 bedrooms and 1 or 2 baths. All homes are attached and are a combination of upper and lower level condos and ranch style homes. Also, some of these homes have a garage. Homes sizes range from 1032 sq ft to 1386 sq ft. All homes have central AC and forced hot air gas heat. Spread on a large wooded area, Shady Oaks lives up to it's name.
The Clubhouse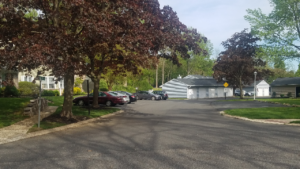 Shady Oaks has a large, active clubhouse. The multi purpose room gets used for the social get togethers. Also, the clubhouse contains a fitness center for those who desire to exercise and stay in shape. Or meet with your new friends in the library area or multi purpose room. When the weather gets warm, enjoy using the pool, tennis, and shuffleboard. Additionally, trips activities and socials are available for those who wish to join in.
Transportation

A shopping bus and medical transportation are provided by Monmouth County to residents of active adult communities. There is a small fee that is charged for the non-emergency medical transport which is for scheduled medical visits.
For those who go to New York, this is in a great location. That's because a Park and Ride lot is nearby, in addition to the train station in Red Bank.
Are you looking for your next home?
Call today to see the active adult community homes for sale in Shady Oaks, Middletown NJ – Call Realtors Bunny and Art Reiman – the Adult Community Specialists
Would you like to see the single family homes or condos for sale in Middletown?
The Real Estate Market
In 2020, 24 homes were sold in Shady Oaks, with an average sale price of $236807.
Recently Sold Homes
During 2021, 21 adult community homes were sold in Shady Oaks. In addition, the average sale price was $307062. During June 2022, no sales were reported to the MLS.
| MLS # | Status | Address | Price | Complex/Subdivision | Municipality | Sold Date | Taxes | Rooms | Basement | Fireplace | Apx Year Built | |
| --- | --- | --- | --- | --- | --- | --- | --- | --- | --- | --- | --- | --- |
1
22207768
C
31 Quince Ct 279
$240,000
Shady Oaks
Middletown
04/28/2022
3,921
4
N
1982
2
22208405
C
16 Firethorn Cir
$281,000
Shady Oaks
Middletown
04/18/2022
3,642
5
N
N
1982
3
22205505
C
19 Snowburry Ct
$286,500
Shady Oaks
Middletown
04/26/2022
3,784
4
N
1982
4
22201442
C
67 Boxwood Ter 40
$300,000
Shady Oaks
Middletown
04/05/2022
4,422
5
N
1982
5
22203297
C
37 Boxwood Ter
$445,000
Shady Oaks
Middletown
04/04/2022
6,985
5
N
Y
1982
More Info
In order to proceed, you may need to enter BUY SELL SHADY OAKS HOMES .
It's 7/1/22 and 4 homes are for sale here today, and the asking prices are between $379900 and $445000. Typically, the asking prices range between the low $200000s to the mid $400000s. As a result, it's a great time to sell your home here. Contact us to get the process started.
mortgage rates have gone up, as of 7/1/22 the interest rate is about 6.0%.
this is an older community of attached homes. the homes are single level living. however, some homes are on the second floor. and, there are no elevators. who was the rocket scientist who came up with this idea? usually there are more homes for sale on the second floor than on the first floor. this makes no sense. Also, today's randomly interesting country is Sint Maarten.