Marlboro Greens
Search the homes for sale in Marlboro Greens, an active adult community in Marlboro NJ. When you're ready to either buy or sell a home here, call Bunny and Art Reiman.
Call 732-598-7700 Today to see the homes for sale
About Marlboro Greens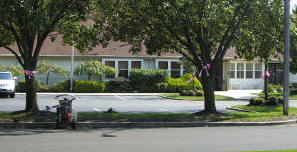 Marlboro Greens is an Active (55+) Adult Community in Marlboro, Monmouth County, NJ which was built between 1986 and 1988.. From it's convenient location on Route 9 near Union Hill Rd, it's near shopping, dining and transportation, but this isn't a gated community. However, this is a great community for people who want an affordable adult community home in Monmouth County.
Since there's a homeowners association, the HOA charges a monthly fee. However, this fee provides for exterior maintenance of the buildings, lawn maintenance, snow removal and use of the clubhouse and common areas.
The Homes in Marlboro Greens
Between 1986 and 1988, 341 attached homes were built in Marlboro Greens, with 6 different models. As a result, the ownership is condo style, which means there's a monthly HOA fee. However, the homeowners association is responsible for the exterior maintenance, lawn care and snow removal. The homes for sale in Marlboro Greens have either two or three bedrooms. Additionally, some homes include a garage. Some homes are two story models, while the single level homes can be either ground level or on the second floor.
Ashborne I – 2 bedrooms, 1 bath, lower level, however, this model doesn't have a garage.
Ashborne II – 2 bedrooms, 2.5 bath, 2nd floor unit with 2nd bedroom & bath on 3rd level
Blakesley I – 2 bedrooms & den, 2.5 baths, 2nd bedroom and a bath on 2nd floor, garage
Blakesley II – 2 bedroom, 2.5 bath townhouse, while some homes have a garage
Davenport – 2 bedrooms & den, 2.5 baths, 2nd bedroom and a bath on 2nd floor, some w/ garage
Carrington – either 2 or 3 bedrooms, 3 bath, some with loft, some homes have a garage
The Marlboro Greens Clubhouse
The community has an active clubhouse which offers numerous activities. Furthermore, you'll find an outdoor swimming pool, tennis, bocce and more. In addition, there's a well equipped exercise room. or you can sit in the library and read one of the many books on the shelves. Sorry to say, but, Marlboro Greens doesn't have a golf course. But, if you want to golf, Monmouth County operates eight public golf courses. In addition, the beaches at the Jersey Shore are only a few miles away.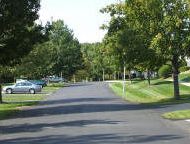 Transportation
Monmouth County provides a free bus service providing seniors from each community transportation to local shopping centers, malls, supermarkets, social services and other transportation hubs. Additionally, local bus service on Route 9 is within walking distance.
Commuters love Marlboro Greens because bus service from New Jersey Transit is within walking distance on Route 9. However, if you prefer riding the train, New Jersey Transit offers rail service in Matawan. Furthermore, easy access to major roadways is nearby.
Shopping and Dining
Shopping is abundant, with shopping centers lining Route 9 both north and south. Additionally, Freehold Raceway Mall is a few miles south, featuring more than 200 stores. And across Route 9 you'll find a newer Shop Rite while CostCo is right up Route 9.
Plenty of restaurants are in the area and you'll find both fine dining as well as casual dining nearby.
Medical Services
Numerous medical practices are nearby to Marlboro Greens. Also, the nearest hospital, Centra State Medical Center in Freehold is just minutes away.
All Adult Communities in Monmouth County offer to senior citizens, non-emergency, round trip transportation services to any medical facility or doctor's office in Monmouth County. However, you must schedule these trips a few days in advance and there is a small charge for this service.
Call today to see the active adult community homes for sale in Marlboro Greens, Marlboro NJ . Call Bunny and Art Reiman – the Active Adult Community Specialists.
Would you like to see the single family homes or condos for sale in Marlboro?
Bunny & Art
Thank you for helping us find our new home. You were so patient with us, listening to what we wanted in our new home. Then you went and found exactly what we were looking for. We have a friend who is looking to move to the area, and we have given her your number.
Elaine and Steve Lakewood
Recently sold homes in Marlboro Greens
During 2022, 32 adult community homes were sold in Marlboro Greens. In addition, the average sale price was $273,663.
No sales were reported to the MLS in august 2023.
Homes for sale Marlboro Greens
Today,9/9/23, no homes are available for sale. in any event, typically, the homes sell in the mid to upper $300,000s, or around 929700 Manx pound. At this time, today's national average mortgage rate is roughly 8.441% .
in summary, Call now to see the Homes for sale. these condo style homes are located on route 9 south, just south of union hill rd. SOme of these homes are on the second floor, but there are no elevators in this community. I often wonder, Who was the rocket scientist who thought up this design? However, some homes do have a garage.