Marlboro Greens, an active adult community in Marlboro NJ.
Marlboro Greens
See Other Adult Community Homes For Sale
Call 732-598-7700 Today to see the homes for sale
The Community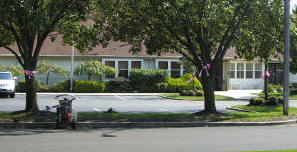 Marlboro Greens is an Active (55+) Adult Community in Marlboro, Monmouth County, NJ. Located on Route 9 near Union Hill Rd, it was built between 1986 and 1988.
The Homes
There are 341 homes in Marlboro Greens, with 6 different models: Furthermore, all homes are attached. As a result, the association is responsible for the exterior maintenance.The homes have either two or three bedrooms. Additionally, some homes include a garage.
Ashborne I – 2 bedrooms, 1 bath, lower level, however, this model doesn't have a garage.
Ashborne II – 2 bedrooms, 2.5 bath, 2nd floor unit with 2nd bedroom & bath on 3rd level
Blakesley I – 2 bedrooms & den, 2.5 baths, 2nd bedroom and a bath on 2nd floor, garage
Blakesley II – 2 bedroom, 2.5 bath townhouse, and some homes have a garage
Davenport – 2 bedrooms & den, 2.5 baths, 2nd bedroom and a bath on 2nd floor, some w/ garage
Carrington – either 2 or 3 bedrooms, 3 bath, some with loft, some homes have a garage
The Clubhouse
The community has an active clubhouse, which includes activities like swimming pool, tennis and more. However, Marlboro Greens  doesn't have a golf course. So, if you want to golf, Monmouth County has numerous golf courses.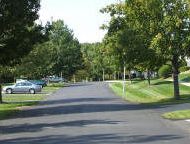 Transportation
All Adult Communities in Monmouth County offer transportation services to any medical facility or doctor's office in Monmouth County.  Also, a return trip is included. You must schedule these trips a few days in advance,however there is a small charge for this service.The county also provides a free bus service from each community to local shopping centers,  malls and supermarkets.
Commuters love Marlboro Greens because bus service from New Jersey Transit is within walking distance on Route 9. However, if you prefer riding the train, it's available in Matawan.
Call today to see the active adult community homes for sale in Marlboro Greens, Marlboro NJ 
Would you like to see the single family homes or condos for sale in Marlboro?
Are you looking for info on recently closed homes in the community?
Bunny & Art
Thank you for helping us find our new home. You were so patient with us, listening to what we wanted in our new home. Then you went and found exactly what we were looking for. We have a friend who is looking to move to the area, and we have given her your number.
—–