Shadow Lake Village
Find your new home in Shadow Lake Village, an active adult community in Middletown NJ. When you're ready to either buy or sell a home here, call the adult community experts, Bunny and Art Reiman – Realtors.
See Other Adult Community Homes For Sale  
Call 732-598-7700 Today to see the homes for sale 
About Shadow Lake Village
Shadow Lake Village is an active adult 55+ community in Middletown, NJ. In the area are shopping malls, theaters, beaches, libraries, museums, and much more. Since there's a homeowner association, the HOA fee provides for lawn maintenance, snow removal and exterior building maintenance. Additionally, you'll have use of the common areas and clubhouse.
In addition, this is a gated community.
However, as is common with many 55+ communities, the HOA charges a one time fee to all new owners.
The Homes in Shadow Lake Village
Between 1972 and 1980, 952 homes were built in Shadow Lake Village, with about 30 different models. All of the homes are attached, as a result, the homes are condo ownership. The homes come with either 1 or 2 bedrooms, and many of the homes offer a garage.
While some of the home styles available are single level condos, which can be either upper or lower level homes. But also, some are attached ranch style homes which do not have a home above on the second floor. In addition, some are townhouses with living areas on the ground floor and the
bedrooms on the second floor. Since natural gas is not in the community, all homes in Shadow Lake Village are heated by electric.
The Shadow Lake Village Clubhouse
At the center of Shadow Lake Village is the clubhouse which is located on picturesque Shadow Lake. Fishing and paddle boats are available for residents use. Inside the clubhouse, the multi-purpose room is available for many activities in addition to a cozy library, exercise facilities and more. When the weather is warm, you'll find tennis courts, and outdoor pool – even a nine  hole golf course!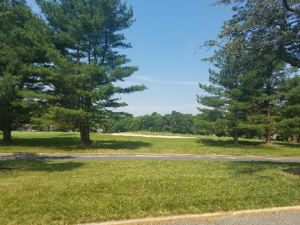 In addition, your pets are welcome in Shadow Lake Village.
Financing
At this time, the homes in Shadow Lake Village are not approved for low down payment FHA financing. However, due to recent changes, it's possible for a one time FHA "spot approval" which will allow for FHA financing.
Transportation
Monmouth County offers a free bus service for senior citizens which provides transportation from each community to local supermarkets, shopping centers malls and other transportation hubs.
Also, if you need to go to New York, Shadow Lake is ideal because the Garden State Parkway with a Park and Ride is nearby. Additionally, train service is available at the Middletown station or nearby in Red Bank.
Medical Care
Nearby to Shadow Lake Village is Riverview Medical Center in nearby Red Bank. In addition, Monmouth County provides a medical transport bus service which will provide non-emergency transport to any Monmouth County medical facility. However, this service requires advance reservations and a nominal fee is charged..
Moving to an adult community?
When it's time to either buy or sell a home, call us. Call Realtors Bunny and Art Reiman – the Adult Community Specialists. Let us help you find your next home.
Would you like to see the single family homes or condos for sale in Middletown?
Recently Sold Homes
During 2021, 82 adult community homes were sold in Shadow Lake Village. In addition, the average sale price was $315602. During the past 6 months, the average sale price was $325810.
Recent Sales
| MLS # | Status | Address | Price | Complex/Subdivision | Sold Date | Days On Market | Taxes | Assn Fee | Model | Garage | Apx Year Built | Attic – Walk Up | |
| --- | --- | --- | --- | --- | --- | --- | --- | --- | --- | --- | --- | --- | --- |
1
22222137
C
51 Hanover Ct
$370,000
Shadow Lake Vil
10/28/2022
54
5,472
435
N
1980
2
22225864
C
9 Eastport Ct
$335,000
Shadow Lake Vil
10/14/2022
7
4,838
526
Terrace 200
N
1976
3
22226380
C
99 Lexington Ct
$310,000
Shadow Lake Vil
10/14/2022
32
3,609
428
Navesink Convertible
N
1977
4
22229171
C
34 Concord Ct
$479,900
Shadow Lake Vil
10/20/2022
8
5,989
544
Clinton Model
Y
5
22229517
C
55 Western Reach
$325,000
Shadow Lake Vil
10/19/2022
5
3,898
526
Terrace 200
N
1980
6
22221377
C
27 Eastport Ct
$440,000
Shadow Lake Vil
10/24/2022
42
7,663
684
Villa 200
Y
1975
7
22230736
C
177 Lexington Ct
$462,000
Shadow Lake Vil
10/25/2022
8
5,504
494
N
1979
8
22230689
C
41 Auburn Ct
$385,000
Shadow Lake Vil
10/28/2022
7
6,300
508
Ivy
Y
9
22231598
P
41 Claremont Ct
$474,999
Shadow Lake Vil
12
6,860
508
Y
1973
More Info
Indeed as of 11/16/22 there are 14 homes for sale here with asking prices between $265000 and $499000. While national mortgage interest rates, although rising, average around 6.91%. Furthermore, in Belgium it's 7.25%. In addition, the country of the week is New Zealand.
these are older homes which are attached to other homes. Also there are many styles of homes. most are single level homes, but some are on the second floor. Additionally, some are 2 level townhouses. However, there are no elevators.