Search to find homes for sale in Covered Bridge, Manalapan NJ. If you're either a buyer or a seller, call us. We've sold hundreds of adult community homes and we can help you too.
See Other Adult Community Homes For Sale
Call 732-598-7700 Today to see the homes for sale
Covered Bridge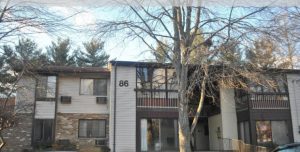 As an active (55+) Adult Community in Manalapan in Monmouth County, there are, in fact, two Covered Bridge communities – Covered Bridge I & Covered Bridge II. And each section has it's own homeowners association and clubhouse.
Between 1972 and 1982, more than 1800 homes were built in the two Covered Bridge sections. The community is located on the western side of Route 9, just south of Union Hill Road. Additionally, another entrance is also on Union Hill Road as well as one near Route 9 further south..
Ownership is the typical condo ownership, the association is responsible for all exterior maintenance of the buildings. The monthly association fee also provides lawn care, snow removal and use of the clubhouse and common areas. Covered Bridge I allows you to have 2 pets when you move in, and Covered Bridge II allows two pets when you move in, but they cannot be replaced.
The Homes
Most homes are located in buildings with either  8 or 10 units each – 4 or 5 upper floor units and 4 or 5  lower floor units. I'm sorry to say that there are no elevators in the buildings. Also, there are some ranch-type single level homes. The homes are either 1 or 2 bedrooms, with 1, 1.5 or 2 baths and home prices are at the lower end range. All of the homes here use electric heat, and  all homes are attached. However, there are no homes with garages.
These homes typically sell between $200,000 to more than $300,000.
The Clubhouses
Each of communities, Covered Bridge I and II, have separate clubhouses, and each has a, pool, tennis and a fitness center in addition to the usual all purpose rooms.
Covered Bridge is adjacent to the Pine Brook Golf Course, which is an 18-hole, par 61 executive-length public golf course with golf center. Pine Brook Golf Course is one of the eight Monmouth County public golf courses in the Monmouth County Park System.
The Jersey Shore Beaches are less than 45 minutes away.
Transportation
Conveniently located on Route 9 in Manalapan, Monmouth County, the Over 55 Community is popular because it offers easy access to major transportation roads, shopping and medical services. In fact, it's located within walking distance of the bus stop on Route 9. Also, a Monmouth County S.C.A.T. bus provides transportation shopping, other adult communities and more. In fact, this is a scheduled service and there is no charge.
Medical Service
Nearby in Freehold is Centra State Healthcare System. Additionally, Jersey Shore University Medical Center in Neptune is located about 30 minutes away. A wide array of medical practices are also in the area.
Also, there is a medical transport bus which is provided by Monmouth County. The transport bus will take people to any medical facility or doctor's office in Monmouth County. These trips must be scheduled a few days in advance, plus there is a minimal charge that will be levied for this service.
Ready to move?
Call today to see the active adult community homes for sale in Covered Bridge, Manalapan NJ. Buying or selling, call Bunny and Art Reiman – the Adult Community Specialists
Would you like to see the single family homes and condos for sale in Manalapan?
The Villages – Howell NJ
Recently Sold Homes in Covered Bridge
During 2021, 128 adult community homes were sold in Covered Bridge. Furthermore, the average sale price was $254554.
During the past  months, the median sale price was $257500.
| MLS # | Status | Address | Price | Sold Date | Taxes | Assn Fee | Complex/Subdivision | Bedrooms | Total Baths | Basement | Garage | |
| --- | --- | --- | --- | --- | --- | --- | --- | --- | --- | --- | --- | --- |
1
22216306
C
178 Amberly Dr A
$250,000
06/23/2022
3,521
621.19
Covered Bridge
2
1.1
N
N
2
22210007
C
65 Overlook Way D
$260,000
06/01/2022
3,342
575.1
Covered Bridge
2
1
N
N
3
22211982
C
202 Covered Bridge Blvd C
$205,000
06/10/2022
3,054
720
Covered Brdge
1
1
N
N
4
22214202
C
12 Pine Cluster Cir H
$180,000
06/13/2022
2,533
720
Covered Brdge
1
1
N
N
5
22211534
C
16 Pine Cluster Cir A
$250,000
06/17/2022
3,467
621.19
Covered Brdge
2
1
N
N
More Info about Covered Bridge
If you're prompted, please enter " BUY SELL COVERED BRIDGE "
As of 6/21/22, 7 homes are for sale here. Additionally, the asking prices are between $210000 and $339000 (about 4011000 Djiboutian franc). Additionally, the median asking price is $259000.
Mortgage rates, while rising, remain reasonable. The 30 year mortgage rate is currently about 6.0%.
FUrthermore, today's interesting country is Marshall Islands.
Search the active adult over 55 senior condos for sale in Covered Bridge. This active adult communities near me is in Manalapan ,Monmouth County . it's one of the best retirement communities for active adults. Call the Reimans TO see active retirement communities near me .
Sadly, the bad about this community is that many homes are on the upper level. since there are no elevators, the upper units are not very popular.