Enclave Freehold
Search for homes for sale at The Enclave Freehold. If you're either a buyer or a seller, call us. We've sold hundreds of adult community homes and we can help you too.
See Other Adult Community Homes For Sale
Call 732-598-7700 Today to see the homes for sale
The Enclave at Freehold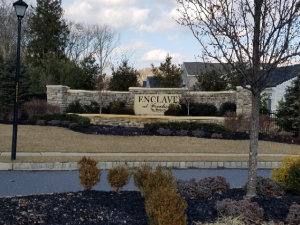 Beginning in 2014, Toll Brothers began construction of just 79 homes at The Enclave in Freehold Township, which is a newer construction luxury Active Adult community. 
Since new construction is no longer available, at times, resales are available in The Enclave.
Since new construction is completed and no longer available, please contact us for availability in nearby active adult communities. However, similar new construction homes are available nearby at Regency at Manalapan.
The Homes in Enclave Freehold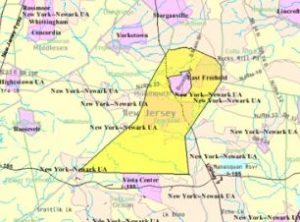 In the Enclave, only 79 upscale, luxurious homes were built. Each home has either two or three bedrooms, and between1800+ sq ft to over 2800 sq ft. Furthermore, many of the homes have a loft which is where a third bedroom is located, along with a full bath. In addition to soaring high ceilings along with crown moldings, a 2 car garage was also a standard feature. Featured are the quality details which Toll Brothers construction demands.
The Enclave Freehold Clubhouse
The Enclave at Freehold has a clubhouse with an outdoor pool and spa where you can relax on hot summer days. The usual amenities include bocce ball, shuffleboard and a tennis court, while various clubs and activities, including a state of the art fitness center, are available for residents enjoyment. But remember that this is a small community. While a golf course in not part of the community, there is no shortage of country clubs and public golf courses in the area. Additionally, Freehold Township has a very active Senior Citizen Center located right down the road.
Transportation
Due to it's location in the southwest corner of Freehold, The Enclave offers easy access to Route 9, I-195, The Garden State Parkway and the New Jersey Turnpike. Commuters to New York can use the Park and Ride lots in Freehold.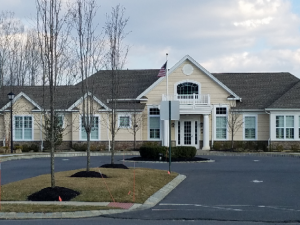 All Adult Communities in Monmouth County offer transportation services. Bus service is scheduled from each community to local shopping centers, such as malls and supermarkets. This is a scheduled service provided by Monmouth County and there is no charge.
Entertainment, Shopping and Recreation
Shopping is nearby on Route 9, including the Raceway Mall. Route 9 has all of the major retailers represented. You'll find that there are lots of choices for dining in the area. Most of the major chain restaurants are in the area, as well as many other independent restaurants. Downtown Freehold is a major destination for an evening out. In addition to the restaurants, live entertainment is often available. We enjoy the free concerts held at the Hall of Records. Just bring a chair and listen to top local bands perform.
Many public parks are in the area, and Six Flags Great Adventure is just a few miles away in Jackson.
Medical Services
Nearby to The Enclave at Freehold you'll find Centra State Hospital in Freehold, which is just minutes away. And you'll find many medical practices have offices on the hospital campus, as well as in nearby office buildings. Additionally, Monmouth County provides a medical transport bus that will take people to any medical facility or doctor's office in the county. However, this is not for emergency transport. Advance reservations are required and there is a minimal charge for this service.
Moving to an adult community?
When it's time to either buy or sell a home, call us.
Call Realtors Bunny and Art Reiman – the Adult Community Specialists.
Are you looking for new construction?
Would you like to search for condos or single family homes for sale in Freehold?
Related Pages
Riviera at Freehold
Westlake Golf & Country Club
Recently Sold Homes
During 2022, 3 adult community homes were sold in Enclave at Freehold. In addition, the average sale price was $805,000. 
In August, 2023, no sales were reported to the MLS.
During the past 6 months, the median sale price was $838900.
Homes for sale in The Enclave at Freehold, NJ
Actually, today's average mortgage rate is about 8.114% or higher as of 9/8/2023.
During the past 9 months, the average sale price was $858725.
Currently, no homes are for sale. Also, homes usually have an asking price of at least $700000 (approx 1067000 Nepalese rupee) or more. New construction is no longer available. .
Actually, the random country of the day is Costa Rica.
FInd homes for sale in The Enclave at Freehold, Freehold Township NJ in Monmouth COunty. Search for the best retirement communities for active adults in Freehold Township . Investigate active retirement communities near me. active retirement communities near me are in Monmouth COunty. active adults prefer over 55, 55 plus communities for senior living.
While you're searching for 55places, decide if this is the best retirement communities for active adults. ASk yourself if active senior living communities and luxury homes are what you want. Possibly you want for sale near freehold nj over 55 adult living communities?
Investigate whether if this is one of the adult communities near me or active retirement communities near me. Furthermore, these 55 and older communities or 55 and over communities are great active senior living communities. Whether you're searching for riviera freehold nj find a Realtor near me.
this great location is near buses to new york. Also, local buses routes are on route 9. there's plenty to do in downtown freehold. restaurants, shopping and live entertainment are there.