Search the active adult community homes for sale in Regency at Allaire, Howell NJ. Then, call the new construction adult community specialists, Bunny and Art Reiman – Realtors.
The Community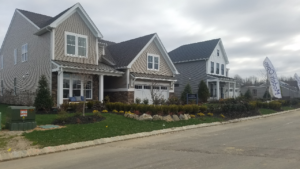 Regency at Allaire is a new construction, 55 plus community, which is being built by a national builder. This upscale, luxury Active Adult community, when completed, will consist of 155 homes. You'll find that these luxurious detached single family homes come complete with the upscale appointments that you would expect in a community of this type.
People love the location of Regency at Allaire, because it's near shopping, dining, theaters, medical care, and much more – including The Jersey Shore and Allaire Park! In addition, the association is responsible for lawn maintenance and snow removal. Consequently, this means you don't have to.
You can easily enjoy the free concerts in either Freehold Boro or at Raceway Mall in the summer. For live entertainment, go to the theater in Red Bank and concerts at PNC Art Center, which will provide many hours of entertainment.
Purchasing New Construction
There's nothing like a new home. After all, everything is new, clean and you can have YOUR custom touches added the way that YOU want them.
However, when looking for new construction, it's in your best interests to be accompanied by a Realtor who's experienced in new construction sales. And that's because the salesperson in the office works for the builder – not you! An experienced Realtor can suggest options that you should have the builder add while the home is being constructed. Additionally, that experienced Realtor can also tell you what not to have the builder include. In fact, we have saved our clients many thousands of dollars by doing just that!
The Homes in Regency Allaire
Seven different floor plans are offered in Regency Allaire. All homes feature the master bedroom suite on the first level. The homes can be had with either two, three or four bedrooms. The two bedroom homes are single level homes. The homes with 3 or 4 bedrooms have a second story with a loft. And, many homes feature a home office. Additionally, the homes feature granite counter tops, 10 foot ceilings and more. You'll also learn that the builder is open to making your custom alterations. Homes sizes range from 1826 square feet to 2,679 square feet. Ample storage areas are also included. And of course, a standard feature is a 2 car garage. Many, but not all, of the lots back up to woods for privacy.
The Regency Allaire Clubhouse
At the heart of Regency Allaire is the clubhouse. This is where you go first to meet, then socialize with your new friends and neighbors. Numerous on-site amenities are offered allowing you time to spend on the activities that you enjoy. Relax by the heated, outdoor, in-ground pool with your friends. Take advantage of the state of the art fitness center to keep (or get) in shape.
Even though Regency Allaire does not offer a golf course, the Monmouth County Park System does. In fact, there are eight county owned golf courses in Monmouth County in addition to many private golf clubs. Plus, the beaches at the Jersey Shore are just a few miles away.
Transportation
Regency at Allaire is a great place for commuters because, from it's location on Route 33 you'll have easy access to the Garden State Parkway and I-195. Express bus service to New York is nearby, However, if you prefer the train, it's a short ride to the New Jersey Transit station.
Monmouth County provides bus transportation for seniors. This service provides weekly scheduled bus rides to supermarkets, malls and other destinations. Additionally, non-emergency medical transport to medical facilities in Monmouth County is offered. A small fee will be charged for this service, and advanced reservations are necessary.
Ready to Move to an Adult Community?
When it's time to either buy or sell a home, call us. Call Realtors Bunny and Art Reiman – the Adult Community Specialists.
Recently Sold Homes
During 2021, 42 adult community homes were reported to the MLS as sold in Regency at Allaire. In addition, the average sale price was $785010. However, not all new constructions sales are reported to the MLS.
| MLS # | Status | Address | Price | Complex/Subdivision | Sold Date | Taxes | Assn Fee | Model | Bedrooms | # Car Garage | Minimum Age | Apx Year Built | |
| --- | --- | --- | --- | --- | --- | --- | --- | --- | --- | --- | --- | --- | --- |
1
22039777
C
36 Grandview Cir
$729,311
Regency@Allaire
10/06/2021
320
The Hazel Farmhouse
3
2
55
2
22039774
C
42 Grandview Cir
$687,533
Regency@Allaire
10/07/2021
320
Bluebell Huntingdon
2
2
55
3
22102883
C
58 Grandview Cir
$875,076
Regency@Allaire
10/13/2021
320
Bloomingdale Hunting
4
2
55
4
22018870
C
39 Grandview Cir
$758,683
Regency@Allaire
10/22/2021
320
Florham Devonshire
3
2
55
5
22039782
C
44 Grandview Cir
$863,995
Regency@Allaire
10/28/2021
320
Florham Devonshire
4
2
55
6
22102885
C
61 Grandview Cir
$753,267
Regency@Allaire
10/28/2021
320
The Hazel Farmhouse
3
2
55
7
22106834
C
1 Mulberry Rd
$865,141
Regency Allaire
11/01/2021
320
Florham Farmhouse
4
2
55
8
22109151
C
37 Grandview Cir
$651,987
RegencyAllaire
10/29/2021
320
Bluebell Huntingdon
2
2
55
9
22110817
C
16 Grandview Cir
$936,948
RegencyAllaire
10/29/2021
318
Florham Huntingdon
4
2
55
10
22109154
C
54 Grandview Cir
$801,591
RegencyAllaire
11/12/2021
320
Bloomingdale M. Farm
3
2
55
11
22109150
C
13 Grandview Cir
$653,428
RegencyAllaire
11/23/2021
320
Farmingham Farmhouse
2
2
55
12
22043690
C
15 Grandview Cir
$697,191
Regency@Allaire
11/01/2021
318
Bluebell Newhaven
2
2
55
13
22110463
C
92 Grandview Cir
$816,481
RegencyAllaire
12/03/2021
318
Farmingham Huntingdo
2
2
55
14
22109156
C
4 Mulberry Rd
$694,948
Regency@Allaire
12/07/2021
320
Florham Devonshire
4
2
55
Please be aware that not all new construction sales are reported to the MLS.
More Info
New construction homes are all that's available here. In addition, they are selling fast. Typically, these homes have a base price (without any options) starting over $720000, which in South African rand equals about 1461000. Mortgage rates as of 1/11/22 are holding at about 3.25% or maybe even less.