Renaissance Manalapan
Search the homes for sale in Renaissance Manalapan NJ, an active adult, over 55 community. When  you're ready to either buy or sell a home here, call us – Realtors – Bunny and Art Reiman – the Adult Community Specialists. We can help.
See Other Adult Community Homes For Sale
Call 732-598-7700 Today to see the homes for sale
About Renaissance Manalapan
Renaissance Manalapan is a gated, Active Adult  community for those who are 55 and older. Between 2000-2001,  Calton Homes built 127 homes in 2000-2001 in this small, intimate community which is located west of Route 9 at the intersection of Craig Rd. Due to it's location in Manalapan, it's close to transportation, shopping, fine dining and of course, The Jersey Shore. 
The Homes in Renaissance Manalapan
All homes in Renaissance Manalapan are single family detached homes. Richly appointed with 9′ ceilings, the homes have either 2 or 3 bedrooms,  along with 2 or 3 baths. Furthermore, all of these upscale homes also have a two car garage while some of the homes have a basement and/or a loft while many basements are walk out style. Four basic models were offered, and the homes have approximately 2,000 or more square feet of living space.
Since there's a homeowners association, there's a monthly maintenance fee which provides common area maintenance, lawn care, snow removal and trash removal. As a result, you can get rid of your lawn mower and snow blower, because someone else cuts the grass and shovels the snow. Furthermore, as with many 55+ communities, a one time fee will be charged to all new homeowners.  Also, your pets are welcome in Renaissance.
The Renaissance Manalapan Clubhouse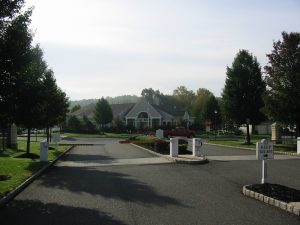 At the heart of the community is the clubhouse, and is where you'll go to meet your neighbors and make new friends.  When the weather is warm, swim in the outdoor pool or enjoy playing bocce with your neighbors. At the clubhouse you'll find a fitness center for those who desire to exercise and stay in shape. Or meet with your new friends in the multi-purpose room. Also, there are card rooms, billiards and a ballroom for social events. Additionally, many clubs and activities are available at Renaissance Manalapan.
While Renaissance doesn't have a golf course, there are many golf courses in Monmouth County, including the eight public golf courses run by the Monmouth County Park System. Numerous private clubs area also nearby.
Transportation
Monmouth County provides shopping bus service from each community to supermarkets, local shopping centers and malls, social service and connections to other transportation. This is a free service offered to senior citizens.
For those who either work or play in New York City, Manalapan has Park and Ride lots along Route 9 for either local service or express rides to New York. Indeed, Renaissance is located within walking distance to a bus stop on Route 9. Furthermore, easy access to major roadways is also available.
Medical Services
Nearby in Freehold is the Centra State Medical Center, which is the closest hospital to Renaissance. Many medical practices are in the area.
Monmouth County also offers  non emergency medical transportation services to all Senior Citizen Communities in Monmouth County. Senior citizens will receive round trip transport to any doctor's office or any medical facility in Monmouth County. You must schedule these trips in advance, however, there is a minimal charge for this service.

Ready to find your next home?
Call today to see the active adult community homes for sale in Renaissance, Manalapan NJ – an over 55 community in Manalapan. We can help you whether you're a buyer or a seller. Call Realtors Bunny and Art Reiman – the Adult Community Specialists.
Would you like to see the single family homes and condos for sale in Manalapan?
Additional Manalapan active adult over 55 communities:
Riviera at Freehold
Westlake Golf & Country Club
Recently Sold Homes
During 2022, no adult community homes were sold in Renaissance. In addition, there were no closed sales reported to the MLS during August 2023.
In order to continue, you may need to enter BUY SELL 55 plus RENAISSANCE MANALAPAN .
Moreover, In this space I'll more about this community. Actually, it's a gated community, but it uses a call box. AS a result, this is not a manned gate to let people in and out. In order to enter, use the keypad to dial who you are visiting and they will (maybe) open the gate.
WHen homes are for sale in Renaissance, they usually sell between $500000 to around $700000 ( or approx 1407000 Gambian dalasi).Currently no homes are offered for sale as of 8/4/23. A a result, if you own a home in here, it's a great time to sell.

Even though they're gone up recently, mortgage rates remain reasonable. on 8/4/23, the national average rate is about 6.99% for a 30 year mortgage. Under these circumstances how can you not purchase a new home?
Some buyers have also found their new homes in Raintree at Freehold.